Our Mission and Vision
We are a registered Canadian charity and we rely on the dedication of community volunteers.
We assist and empower women, children and youth. By advocating for women and children in our communities and by supporting women and children through counseling and education we work for social and legal justice. Find out more about us and about our programs.
You can read about our latest news or upcoming events happening in the communities we support.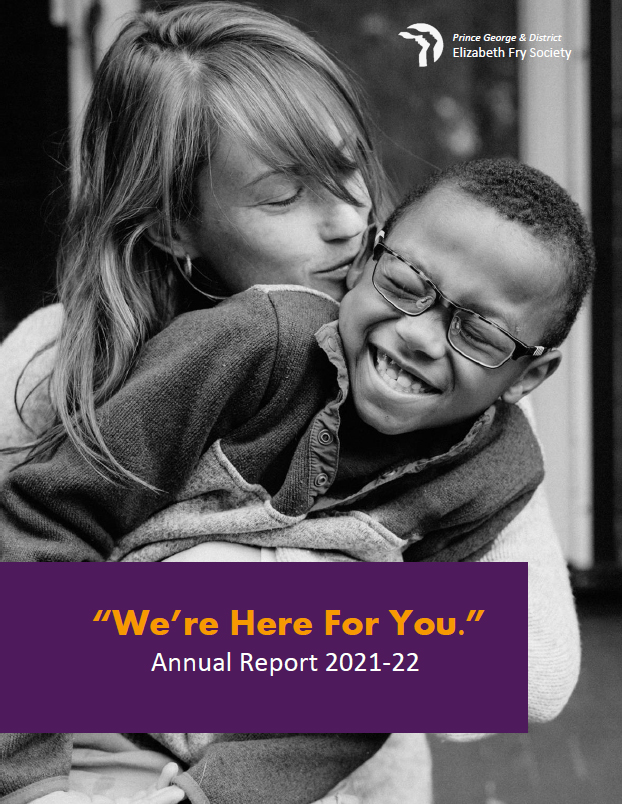 "We're Here For You."
2021 – 2022 Annual Report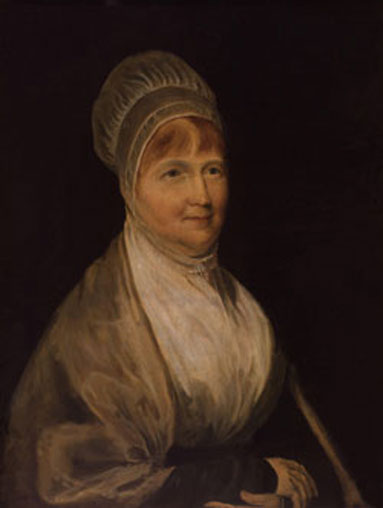 Prince George and District Elizabeth Fry Society
The Prince George Branch of the Elizabeth Fry Society of British Columbia was established in 1979 and is registered federally as a charitable organization. It became a member of the Canadian Association of the Elizabeth Fry Societies in 1985. In February of 1990, the Prince George branch became independent of the Vancouver society. The Society is a United Way member agency. The Elizabeth Fry Society has a board of Directors that provides a governance model of leadership for the organization. The Executive Director and management team provide all aspects of leadership for the organization.
Our Burns Lake office and transition house became operational on October 1st and November 15, 2002, respectively. In January 2004, the Elizabeth Fry Society was welcomed by the community of Quesnel. The Elizabeth fry Housing Society and the Elizabeth Fry Society each operate with eight board members. The Elizabeth Fry Society Prince George, Burns Lake and Quesnel has a collective staff of 58 employees who are committed to providing exceptional services.
---
Historical Background of Elizabeth Fry (1780-1845)
Elizabeth Fry was born "Elizabeth Gurney" at Norwich England on May 21, 1780 into a wealthy family. She gave up luxury to become a plain Quaker woman at age 17 and married Joseph Fry on August 18, 1800. Their first child was born in 1801 and over the next twenty years Elizabeth gave birth to eleven more children.
Appalled by conditions incarcerated women and their children in London's New Gate Prison, Elizabeth Fry did more than any other person of her time to bring about prison reform. She began her work in prison reform in 1816.
One of her first priorities was to ensure that the women and children lived in clean, pleasant surroundings. She insisted that all the women and children attend school and learn a trade. She soon had the women making quilts and selling them to the town's people.
Elizabeth Fry was often consulted when new prisons were established, and founded societies to assist women after they were discharged from prison. In addition to her prison work. Elizabeth set up societies and committees to work with the poor and to provide assistance to homeless women and children. Before her death on October 12, 1845, Elizabeth Fry had led reforms in many areas and her ideas had spread throughout England, France, Holland and Denmark and eventually to Canada in 1939.
---
Elizabeth Fry Societies in Canada
The founding of the Elizabeth Fry Society in Canada was based on the concern for women who were incarcerated in what was then called Oakalla Prison Farm. The first society was established in Vancouver in 1939. It was the founding members' belief that through community involvement and regular visits to the prison, the feeling of isolation and loneliness on the part of the incarcerated women, would be lessened.
From the base of providing a community presence in the prison, the services provided by the Society gradually expanded; one of these expansions was a branch in Prince George. Today there are 22 member societies across Canada.
What is Feminism?
If you ask three feminists what feminism is, you will probably get three different opinions about it. But there are, we think, certain ways of thinking about Feminism that are important. In one sense, feminism is, simply a practical day to day response by women to a culture and society that favours men financially, politically and socially. When we measure the ways that power and control operate in our communities, we find that there is a concentration of power and control in the hands of men. This can sometimes be very obvious, as in the case of company presidents and CEOs. Or it can be very subtle and hard to see. In working day to day to improve the lives of women in a male-centered society, certain tactics and practices and ideas keep recurring and these form a kind of basis of understanding feminism and a feminist response to the culture we live in.
As an example of one important strand of feminism, we can look at the historical importance of legal and political equality. Women's right to vote, in Canada, was only recognized in the twentieth century and Indigenous Women's right to vote was won as recently as 1969. Despite these human rights successes, women remain a marginal voice in elected office and still to this day, in over 40 federally formed governments, no woman has ever been elected as prime minister. This obvious inequity points to just how male-centered our culture is. It is in this sense that feminism can't be understood without also forming an understanding of patriarchy, or the way in which men tend to be at the top of the hierarchy in our society.
Perhaps most importantly, feminist thought has always asked the question, "why are men mostly responsible for acts of violence in our communities?" We need not answer this tough question in order to help women, however. And in order for our societies to make meaningful long term change, it must not be women alone that are working to understand male violence.